Welcome to the New Victorian Printshop! Our magnum opus contains authentic nineteenth century display, text, script, symbol, and border fonts. The typefaces feature full Western Latin character support - even the ornate "Rebstock WF"! Common and extended ligatures are included. Many fonts feature contextual alternates and stylistic sets to broaden your possibilities. All fonts are formatted in OpenType (TTF) format and will work on your Macintosh or PC. The border fonts allow you to easily create frames and edges to mimic the best of 19th century "artistic printing." The set is supplemented by carefully chosen ornaments and spot illustrations to round out your design.

Volume One of the New Victorian Printshop includes 17 authentic Victorian typefaces, 3 symbol fonts, 16 border fonts, and 300+ images.

Buy all three volumes today and save!
All the Fonts at a Glance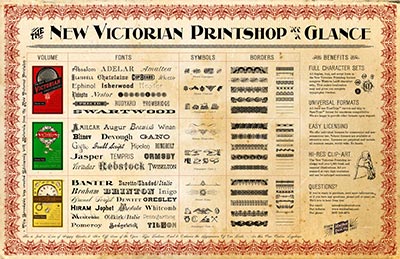 Download this handy guide in PDF format (24MB)