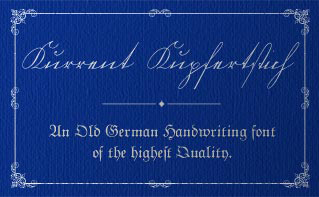 The Kurrent Kupferstich font is based on 19th century German handwriting. It is designed to help you learn to read and write the Old German Script
To research your German family history, or to read old German letters or documents, you will need to learn this script. Kurrent Kupferstich is an excellent learning tool. Write any text on your computer in a typeface of your choice, then convert it to Old German Script using this font. That way you have a familiar text to practice your reading skills on.
This font is included in The Gutenberg Press, our collection of 18 German print and handwriting fonts.
Kurrent Kupferstich features
Correct Old German letters
Ligatures for st, sh etc.
Upper and lowercase Umlaute.
Examples
Don't take our word for it! Here's a se­lec­tion of pro­jects from our Cus­to­mer Gal­lery.