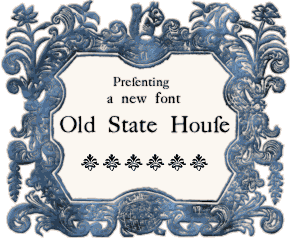 The Old State House Font is based on 18th century print specimens and allows you to create all manner of interesting documents.
Old State House features:
The "long s"
Ligatures for ct, st and sh
A variety of other special characters.
The slightly smudged print impression characteristic for a 18th century printing press.
Digitized signatures of Franklin, Hancock, Jefferson and Washington.
Also, if you like Old State House, you will also enjoy the Minuteman Printshop, our full set of Colonial/Revolutionary War American fonts and clip-art
Examples
Don't take our word for it! Here's a se­lec­tion of pro­jects from our Cus­to­mer Gal­lery.